vivo NEX 2 to have 10GB of RAM, in-screen speaker, f/1.3 camera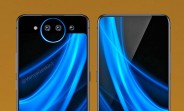 The vivo NEX 2 will likely have 10GB of RAM and a Snapdragon 845 chipset. The information is confirmed by a Geekbench listing of a vivo V1821A device with the aforementioned credentials. Interestingly the vivo in question is also running Android 9 Pie, which would make it the first vivo smartphone on Android's latest software.
According to a related leak, the main camera on the back of the vivo NEX 2 (one of three) will have an ultra fast f/1.3 aperture – claiming the spot of the smartphone with the widest aperture around.
As for the screens, rumor has it the main screen will be a…
via GSMArena https://www.gsmarena.com/vivo_nex_2_could_have_10gb_of_ram_inscreen_speaker_smaller_battery-news-34599.php