T-Mobile launches BOGO deals for Apple and Samsung wearables after New Years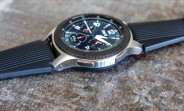 In time for the New Year, T-Mobile is launching a couple of new wearables deals as well as a free tablet deal. Let's start with the Apple Watch deal.
Buy one Apple Watch Series 3 ($380) or Apple Watch Series 4 ($499) and get a second one for $200 off via monthly-bill credits. In order to qualify, you need to purchase the free Apple Watch on a finance agreement since the discount will be given via monthly statement credits.
Next up, if you want to buy a Galaxy Watch, you can get one for $375 and the second one free via monthly bill statements. Like the Apple Watch, you'll have to…
via GSMArena https://www.gsmarena.com/tmobile_launches_bogo_deals_for_apple_and_samsung_wearables_after_new_years-news-34858.php