Deal: Sprint Samsung Galaxy S9 for just $216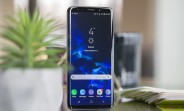 Although the Samsung Galaxy S9 is not even a year old, Best Buy is right now hosting a crazy deal for it. You can purchase one for a grand total of $216. That's insane, but there are a couple of caveats as you'd expect.
First off, you need to either be a new Sprint customer or an existing one who adds a new line. Then, you're going to have to purchase the phone on the carrier's installment plan.
That's it, however. If you don't mind any of those, then you'll pay only $9 per month for the Galaxy S9 over two years, adding up to that $216 sum we mentioned. There's no telling how long this…
via GSMArena https://www.gsmarena.com/deal_sprint_samsung_galaxy_s9_for_just_216-news-34615.php