Counterclockwise: remembering the Doom ports on mobile phones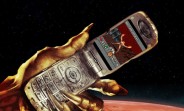 Once upon a time Doom was installed on more computers than Windows 95. Microsoft tried porting the game to boost the popularity of its new OS (an effort lead by one Gabe Newell), but Doom would be ported to just about every platform you can think of – including many phones.
Our story begins before app stores were popular and worse, there were so many mobile operating systems. So this was a bit more complicated than putting a game up on the Google Play Store and the Apple App Store.
CDoom was one of the earlier ports, published in 2001 for the Nokia 9210 Communicator (9210i and 9210c as…
via GSMArena https://www.gsmarena.com/counterclockwise_remembering_the_doom_ports_on_mobile_phones-news-34591.php